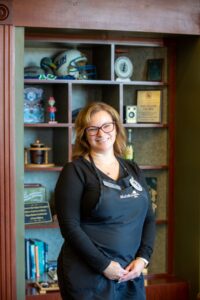 This year we're celebrating our 25th Anniversary by telling the stories of the people who make Hair Saloon the great place it is. Today, we're telling Jessica's story.
Jessica has been a faithful Hair Saloon employee for 16 years in our Ellisville location. She was initially attracted to the family-friendly hours and atmosphere at Hair Saloon. But as time has gone on, she's come to cherish the relationships she's built with clients, co-workers, and the leadership team.
In her time at Hair Saloon, Jessica feels she's grown not only as a stylist, but also as a person. She's been welcomed into her clients' families to celebrate birthdays, graduations, weddings, and anniversaries through the years.
"I've been the first person a client told about his plans to propose to his girlfriend. I've found out that a client's wife was pregnant before they even told their extended family."
"I love that this job gives me the opportunity to build real relationships with my clients and have their trust to share and talk about these big moments in their lives."
From a football team celebrating a district win with mohawks and mullets to clients she's served from childhood to college, Jessica's seen it all. We appreciate all that she and her teammates continue to do to create great experiences for our Hair Saloon clients.