Hair Saloon is making it easier than ever to say "Thank you" to an American hero this November with the return of our Groom it Forward program.
Now through the end of November, we're offering all Hair Saloon clients the opportunity to Groom it Forward and cover the cost of a qualifying hero's haircut.
Here's How it Works:
STEP 1: At checkout, you'll have the opportunity to purchase an Everyday Heroes haircut voucher to thank a local hero from your community.
STEP 2: We'll pin your receipt to the corkboard in your local Hair Saloon.
STEP 3: The next time a qualifying active-duty military member, military veteran, police officer, or firefighter walks in for a haircut, we'll pull your receipt and surprise them with your generous gift.
Why Groom it Forward Matters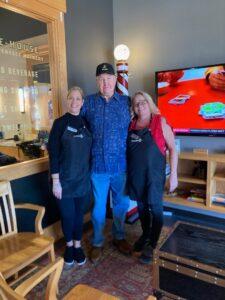 You may already know, we offer a 25% Everyday Heroes discount on services to active-duty military members, military veterans, police officers, and firefighters. In addition, we provide complimentary haircuts for veterans and active-duty military personnel on Veterans Day each year. Both are 26-year traditions that have always been sewn into the fabric of our company.
Groom it Forward is out way to invite our clients to join us in honoring our Everyday Heroes who work tirelessly, often putting their lives on the line to keep us safe. By participating in our Groom It Forward campaign, you're not only giving them a well-deserved grooming experience but also expressing your heartfelt gratitude. It's a small way that together, we can show them that we care and appreciate their dedication.
We started this campaign in 2021 and in the last two years, together with your generosity, we have provided over $46,000 worth of personal care services for our Everyday Heroes! This November, let's unite in our efforts once again to give back and "Groom It Forward" to those who have given so much to our communities.
Don't miss the chance to make a difference – purchase Groom It Forward haircut vouchers today!
Thank you for your continued support and for helping us honor our Everyday Heroes. Together, we can make this November a month of gratitude and appreciation.